Teachers & Students
Field Trips
Experience the magical home of one of Connecticut's most important residents. Transport your students back to Gilded Age Hartford.
Bring your students to visit the house where Huck, Tom and Jim were born! Through a variety of interactive, inquiry-based tours and programs led by our expert guides, students in grades K-12 can explore the beautiful rooms where Twain worked and raised his family, learn about the social and cultural issues that shaped his writing, and even do a little storytelling themselves. It's the perfect way to bring learning to life!
Use the form at the bottom of the page to start scheduling your field trip today!
School field trip groups are currently restricted to a maximum of 70 people, including teachers and chaperones. 
---
Priority School Free Visits: Students at K-12 priority schools in Connecticut may tour the historic Mark Twain House, explore our two galleries, view our documentary film, and participate in any of our virtual educational programs at no cost.
Bus Funding: Transportation funding is available for priority schools, and for all Connecticut public school students K-5 participating in select programs; please inquire when booking. Additionally, the museum is a participating venue with Wheels to Learning, which provides transportation funding for Windham County public schools. Submit an application directly through their website.
Can't visit us in person? Check out our slate of virtual programs for K-12 students and undergraduates! 
Testimonials about Field Trips at the Mark Twain House
"The house had a deep and lasting impact"
"It gave us a chance to experience life in the 19th century"
"They learned they can take action on subjects they care about"
Rates
House Tour
Students: $10*
Chaperones: $13
---
House Tour and Education Program
Students: $12*
Chaperones: $13
---
*Discounts are available for select tours and programs.
NOTE: Teachers accompanying student tours are admitted for free. One adult teacher or chaperone is required for every ten students.
Field Trip Descriptions and Programs
The Mark Twain House Guided Tour
Grades 3-12
Experience a 45-minute inquiry-based tour of the elegant mansion where Samuel Clemens (Mark Twain) lived and worked from 1874 to 1891. Students expand their visual literacy and learn about life in 19th-century Connecticut by exploring the space where Clemens wrote his most successful works.
---
Hands-on Tour: Growing Up In The Gilded Age
Grades K-3
What was it like to learn, play, and grow up in Mark Twain's home?
In this special 60-minute interactive tour, young students explore the everyday lives of the Clemens daughters—the books, games, and songs they loved, the subjects they studied, and the people they interacted with. Led by an experienced guide, this inquiry-based tour invites students to think about a house as a source for understanding the past, and to think about the ways that childhood and family life in the Gilded Age were similar and different to their own.
This program is available at a discounted rate for Connecticut public school students through a $1 million grant from the U.S. Department of Education. Bus funding is also available through the same grant.
Our web series for children, Catching Up With The Clemenses, is a great way to supplement your tour–before or after you visit!
---
Hands-on Tour: A Place For Every Thing
Grades 3-5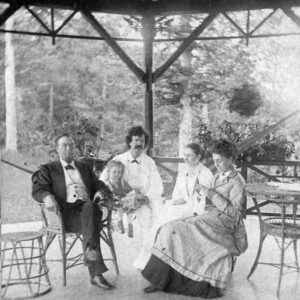 What was it like to visit, work at, and live in Mark Twain's house?
Between Sam and Livy Clemens, their three daughters, their staff, and a steady stream of visitors from down the street and across the country, Mark Twain's house was usually full of people. In this hands-on program and tour, students learn about what it was like to live and work in Gilded Age Hartford through the objects people used each day. It encourages them to think about the various roles people play in their homes and communities, helping them draw connections between their lives and the lives of Hartford residents more than 100 years ago.
This program is available at a discounted rate for Connecticut public school students through a $1 million grant from the U.S. Department of Education. Bus funding is also available through the same grant.
---
Mark Twain: America's Master Storyteller
Grades K-5
How can we use the objects around us to tell stories in collaboration with others?
This 20-minute program introduces Mark Twain to a younger audience, and allows them to do what Twain did best: make up stories! Just as Twain created nightly bedtime stories for his three daughters using the bric-a-brac on the mantel in the library of his home, so too will students be asked to collaboratively improvise the telling of a new story based on a selection of Victorian objects that they may have never seen before. The results are certainly creative—and almost always hilarious!
Supports SL.K-5.1 and SL.K-5.6
---
Sam's Biographies
Grades 6-12
Why might an autobiography and a biography conflict? How do we reconcile that contradictory information?
In this 45 minute program, students learn the similarities and differences between biographies, autobiographies, and memoirs, and then read and analyze the way Twain, his family members, his employees, and his later biographers described an aspect of Twain's life. After considering each author's perspective, purpose, audience, and evidence, students work together to decide how they would write this particular portion of Sam's biography.
Supports RI.6-12.6, RI.6-12.9, RI.9-12.7
---
Creative Writing: The Mark Twain House Fiction Workshop
Grades 6-12
What can we learn about writing from rewriting Twain?
In this 30-45 minute program, students learn the basic elements of fiction writing, practice their storytelling, and expand their creativity by rewriting the opening scene of The Adventures of Tom Sawyer. Asked to change one element of the story, like the setting, students must then consider how all of the other elements must change in response.
This program is made possible with generous support provided by Lincoln Financial Group.
Supports RL.6-12.3 and W.6-12.3
---
Sketches New & Old
Grades 6-12
What choices do artists make when illustrating a book like The Adventures of Tom Sawyer?
Mark Twain's stories are familiar to us not only through his words, but through illustrations of his iconic scenes and characters that artists have produced over the years. In this 45 minute program, students learn about the choices and challenges that artists face when illustrating a book. Then, using their visual arts and text analysis skills together, they read a short scene from The Adventures of Tom Sawyer and look at several different illustrations of that scene, analyzing and comparing the choices each illustrator made in transforming Twain's words into art we can see.
Extend your students' learning: Any class that participates in Sketches New & Old can then send in its own illustrations of Twain's writing to be featured on the museum's website.
Supports RL.6-12.4, RL.6-12.7, and Visual Arts: Responding: Anchor Standards 7 & 8
---
Adventures of Huckleberry Finn: An American Story
Grades 9-12 and undergraduates
How does someone come to believe the views they were raised with were wrong–and how do they change those long-held views? How is personal reflection part of taking informed action?
Mark Twain described Adventures of Huckleberry Finn as "a book of mine where a sound heart and a deformed conscience come into collision and conscience suffers defeat." In this program, students learn how Twain came to recognize the ways that white supremacy had deformed both the national conscience and his own, and explore the ways he and other 19th century American writers and activists successfully–and not-so-successfully–worked towards national and personal reform.
Note: This program is intended to support students who have read or are reading Adventures of Huckleberry Finn, but it does not summarize (or spoil!) the book itself.
Supports RH.9-12.1, RH.9-12.2, RH.9-12.8, RH.9-12.9, CIV 9-12.12-14, HIST 9-12.1-7, HIST 12.11-12
---
Clemens Family Chopped
Grades 9-12 and undergraduates
What shapes the food we have access to and the meals we choose to prepare?
In this program, teams of students take on the role of the Clemens family's new cook, tasked with preparing a dinner for eight—on short notice! Using Hartford market price lists from various weeks in 1874, surprise assortments of Gilded Age pantry items, and recipes drawn from the cookbooks Mrs. Clemens owned, teams will build and price out five-course menus, while navigating good fortune (the cook in the neighboring home has sourdough starter) and bad (Mr. Clemens insulted the fishmonger!) In comparing the finished menus, students will consider how season, climate, regional food cultures, and networks of global exchange would have shaped how the kitchen staff of the Clemens household went about its work—and how the money spent on these dinners compared to the wages paid to those who prepared them. Available January 2024; inquire if interested in scheduling earlier. 
Supports CIV 9–12.13-14; HIST 9–12.1-2, 5, 7-11; ECO 9–12.1, 3, and GEO 9–12.1-2, 7-8
---
Visit the historic homes of two authors in one field trip!
Schedule a joint visit to the Mark Twain House & Museum and the neighboring Harriet Beecher Stowe Center (it's right across the lawn!) Students can tour both houses and, if desired, participate in one of our joint educational programs delivered by historic interpreters from both sites.
Nook Farm Neighbors
Grades K-6
Students learn about the power of storytelling to create community through an interactive investigation of historic objects and documents. They explore the questions: What can we learn about the individuals who lived in Nook Farm, through the museums' collections? What stories might our own objects and documents tell about us and our communities?
Making an Impact
Grades 7-12 and undergraduates
Students discuss Stowe's Uncle Tom's Cabin and Twain's Adventures of Huckleberry Finn in context with other nineteenth-century activist authors. They explore the questions: How have U.S. authors used fiction writing to effect social change? What does informed action through fiction writing look like, historically and today?